I want to buy a car for my family in the near future, so I did some research and I want to share the results of my work with you. There you go:
Once you have your own family, the car that you are going to use when you travel with all your family members should fit your needs of space and safety perfectly. Of course, the choice for the car that you will end up with will depend on the budget that you have for your rental; nevertheless, the experts have done something that is going to ease the choice, evaluating and comparing some of the best family cars that have been bought by people. We are going to talk about two of the family cars which rank well in some of the most important tests.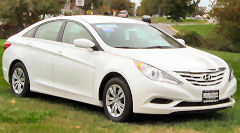 If you plan to visit a remote country you know nothing about, your biggest concerns are probably related to the safety aspect of the car. If this is the case, then Hyundai Sonata 2012 may be your choice. Specialists have given a 10 out of 10 mark to this model, stating that it offers the best driving safety features. In fact, Hyundai Sonata was actually crash tested and it scored 10, the maximum possible.
The safety equipment on Sonata includes dual front, side, curtain airbags, anti-lock brakes, stability and traction control and active headrests. At the same time, the outward visibility is very good as well. And everyone agrees that its looks are stunning: Sonata is a unique blend of crests and curves that really help it stand out in comparison with the other possible competitors that are running in the same category. You will have the same pleasant surprise admiring the interior or of the Sonata, where every tiny detail has been carefully trimmed.
Once you have driven a Sonata during the holiday, you might want to buy one as soon as you return home. The base price of the Hyundai Sonata is around the USD 20,500 mark; the specialists say that its integrated features are top notch. In fact, the car was given 9 out of 10 with regards to its features; it includes Bluetooth connections, a USB port, power windows, locks and mirrors, a telescoping steering wheel, cruise control, and so on, with all these features being included even in the entry level model.
In addition to this, depending on the exact model of Sonata that you are going to choose, the car can have paddle shifters, a sport tuned suspension, heated front and rear seats, a sunroof, a backup camera, automatic climatic control, an automatic dimming rearview mirror, etc. The Sonata navigation system is easy to use; you are also given 8GB of flash memory to store over 1,000 tracks from your preferred music. And even if you are only interested in renting this great car for your holiday, you will be glad to discover that the trunk is very spacious.
The only serious competitor as an affordable, and yet great vacation rental is Ford Fusion 2012, another family sedan which was voted #1 out of 19 affordable midsize cars. This ranking was established after analyzing dozens of expert reviews, actual test drives, safety and reliability tests.
People who have been driving it say it is a family car which is also fun to drive, offering a high quality interior. Ford Fusion has an optional all wheel drive, a manual transmission and numerous trimming options, which will allow you to customize the car exactly the way you want. The three engine choices have all benefited from very good reviews and so did the trunk which is considered spacious for any family long drive. When it comes to safety, Ford Fusion has earned an 8 out of 10 mark, a good rating for the safety offered to car occupants. The Insurance Institute for Highway Safety has given the Top Safety Pick award to Ford Fusion, while federal NCAP has give it a three star ranking for frontal impact and a four start ranking for side impact.
All models of Ford Fusion have standard climate control, power windows, telescoping wheel, split folding rear seats, and so on. Options include rearview cameras, with output displayed in the rearview mirror and navigation systems. And with Ford Fusion, you can always choose to get a new generation hybrid car that can offer you the possibility to switch from the fuel-powered engine to battery.
The autumn has begun, but the cold weather is still months away; right now I can feel how the bright sunshine rays warm up my desk. If you plan to take a vacation with your family, renting one of these great cars is definitely a good idea, one that will make your holiday much better and safer. And if you plan to purchase one of these cars in the near future, why not rent one of them for a few days? It's a surefire, inexpensive way of verifying if you are taking the right decision. I plan to purchase a car next spring, so I know I'll do that for sure.